Valentine given to Maria Sanford, 1913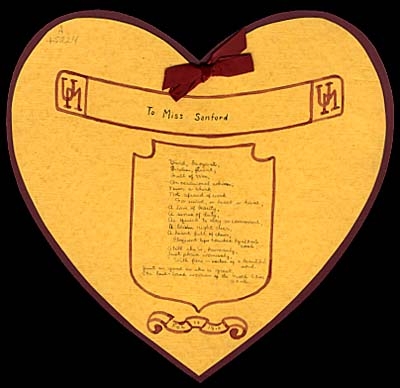 Description
Valentine given to Maria Sanford by University of Minnesota Students.
Minnesota Historical Society Manuscripts Collection, Maria L. Sanford Papers, 1851-1920, A +S224
"To Miss Sanford
Vivid, buoyant,
Tireless, fluent;
Full of vim,
An occasional whim;
Never a shirk
Not afraid of work,
For mind, or heart, or hand;
A love of beauty,
A sense of duty,
As quick to obey as command;
A brain right clear,
A heart full of cheer,
Eloquent lips touched by altar's coal;
Still she is, humanly,
Just plain womanly,
With face--index of beautiful soul.
Just as good as she is great,
The best-loved woman of the North Star State.
Feb. 14, 1913"
Articles
Topics